Double Beam Spectrophotometer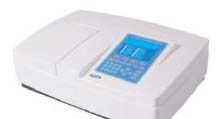 Business Type
Supplier, Retailer, Wholesaler
Bandwidth
1nm
Weight
30 kg
Wavelength Repeatability
+/-0.2 nm
Click to view more
Product Details
Wavelength Range
190-1100 nm
Wavelength Accuracy
+0.3nm
Stray Light
Less than 0.05%T 220 nm, 360 nm
Double Beam Spectrophotometer, which we make obtainable, are designed and developed in compliance with the industry's standards. It is sourced from credible laboratories, whereby pains are taken for bringing afore 100% compliant Double Beam Spectrophotometer. Our all efforts are invested in furnishing the buyers with the quality-tested instrument, in a swift and safe manner. We are counted among the foremost Suppliers of Double Beam Spectrophotometer in Maharashtra.
Silent Features :
The innovative optical layout and state of art mono- chromator with high grade blazed holographic grating ensure  accuracy. Its integrated design assures long term stability  and durability
The precisely aligned detector and quality deuterium and halogen lamps enhance the precision across the UV / Vis spectrum starting from 190 nm and into the near-infrared 1100nm
The two detectors are used to measure sample and reference respectively and simultaneously for optimizing  measurement accuracy
Lamp Selection  enables  conserving the life of D2 & Tungsten lamps. Real time clock for date & time stamping of results
Big LCD display. (320 x 240 Dots Matrix)
Basic Mode, Quantitative, Kinetics, Multi - Wavelength, Wavelength Scan, DNA / Protein Test &Utility
Functions of Software :
Kinetics :


This mode may be used for time course scanning or reaction rate calculations. Abs. vs. time graphs is displayed on the screen in real time
Wait time and measurement time up to 12 hours may be entered with time intervals of 0.5,1,2,5,10,30 seconds & 1min. Post- run manipulation includes re-scaling, curve tracking and selection of the part of the curve required for the rate calculation. Rate is calculated using a linear regression algorithm before multiplying by the entered factor
DNA / Protein Test :


Concentration and DNA purity are quickly and easily calculated: Absorbance ratio s 260nm/280nm with optional subtracted absorbance at 320nm.
DNA concentration= 62.9x A260-36.0x A280
Protein concentration=1552xA260-757.3xA280
Utility :


Has following functions : WL Reset, Printer, Lamp, Clock, Dark Current, Accu. Validity, WL Validity Connect to PC, Beeper On/Off & System Base Line
Looking for "
Double Beam Spectrophotometer

" ?